| Sun | Mon | Tue | Wed | Thu | Fri | Sat |
| --- | --- | --- | --- | --- | --- | --- |
| 28 | 29 | 30 | 31 | 1 | 2 | 3 |
| 4 | 5 | 6 | 7 | 8 | 9 | 10 |
| 11 | 12 | 13 | 14 | 15 | 16 | 17 |
| 18 | 19 | 20 | 21 | 22 | 23 | 24 |
| 25 | 26 | 27 | 28 | 29 | 30 | 1 |
---
---
OCTOBER 1, 2022
6:00 PM - 9:30 PM
Texas Fine Wine Annual Dinner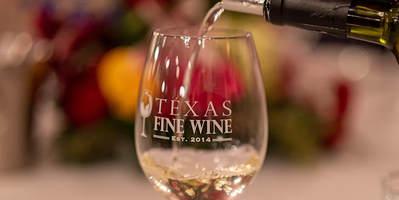 You are invited to join Bending Branch Winery, Duchman Family Winery, Pedernales Cellars and Spicewood Vineyards at its annual Texas Fine Wine dinner to celebrate the end of harvest and Texas Wine Month!

Winery representatives will be at the event to talk about their wines and pairings.

MENU
Welcome Wine
Pedernales Cellars 2020 Kyla Pet-Nat Rosé of Montepulciano
Course One
Goat Cheese and Crab Ravioli
Paired with Duchman Family Winery 2021 Roussanne, Oswald Vineyards
Course Two
Brussels Sprout Salad
Paired with Spicewood Vineyards 2021 Viognier, Texas High Plains
Course Three
Confit Duck Ragu
Paired with Bending Branch Winery 2019 Sagrantino, Texas High Plains
Course Four
Black Garlic Osso Bucco
Paired with Pedernales Cellars 2019 Texas Tempranillo Reserve, Texas High Plains
Dessert
Vanilla Bean Panna Cotta
Paired with Duchman Family Winery Sherry-Style Dessert Wine
---
---
OCTOBER 8, 2022
2:00 PM
THE PIXIE PLUM PAINTING PARTY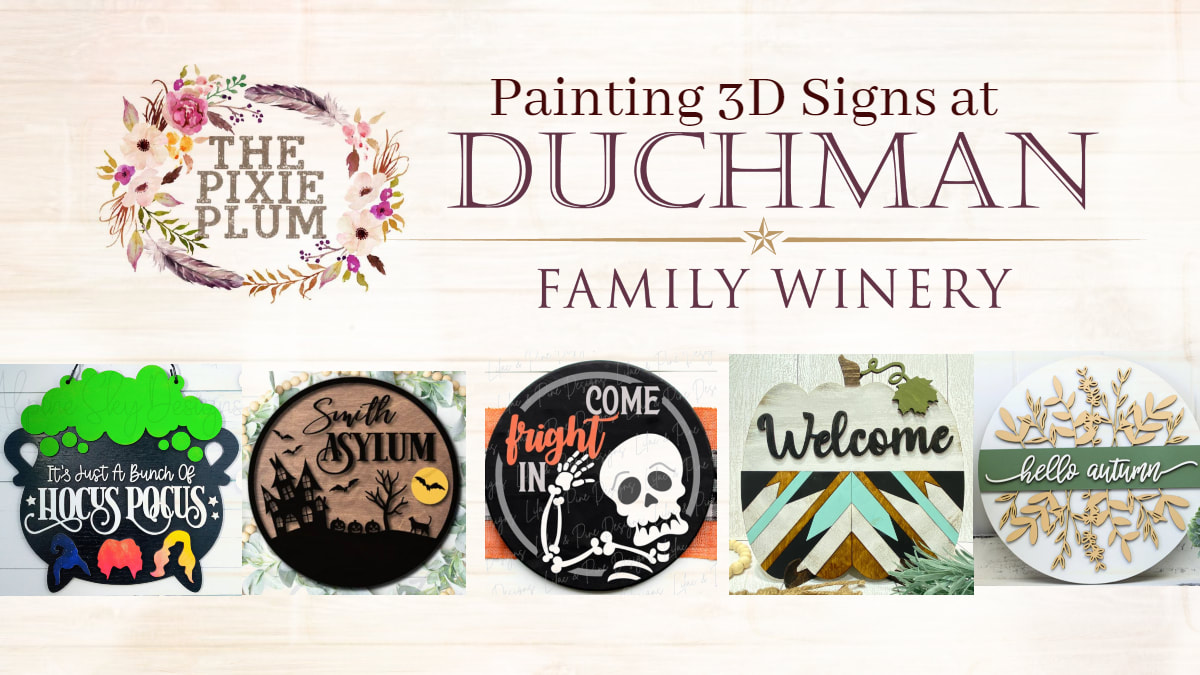 Bring a friend and join us for a fun afternoon of painting your own 3D wood signs at Duchman Family Winery in Driftwood. No previous painting or drawing experience necessary!
Saturday October 8th at 2:00 p.m.
The event fee is $55 and includes all the supplies needed to create sign, step-by-step instruction and a glass of wine. You will also receive a 10% discount on any wine bottles purchased during the event.
Please indicate your design choice as well as any information needed to personalize your design in the notes section during checkout.
Tickets must be purchased in advance and space is limited!
To browse photos of previous parties as well as other designs go to: https://www.facebook.com/ThePixiePlum
For more information, text Jennifer Johnson with The Pixie Plum at (325) 320-4823
---
---
OCTOBER 22, 2022
6:30 PM - 9:00 PM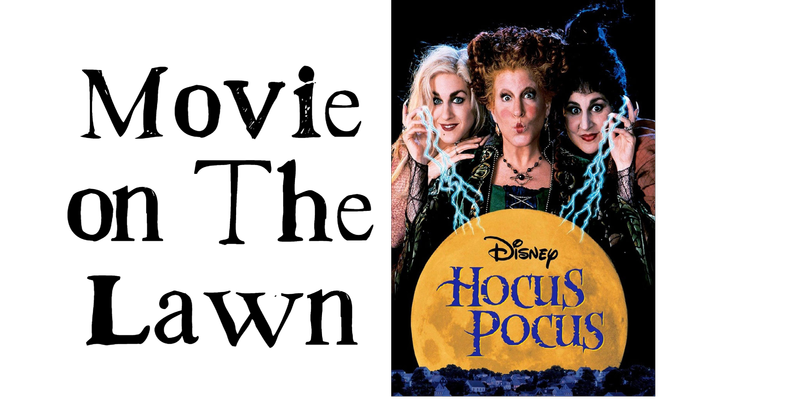 Movie nights on the lawn are BACK!
"Come, we fly!" —Winifred Sanderson
Come hang out with us on the lawn for our showing of the movie, Hocus Pocus.
Check in begins at 6:30 PM inside the winery. We'll begin the movie at sunset, around 7:15 PM. Our tasting room will remain open until 9 PM. Additional drinks and snacks available for purchase.
We have a number of Picnic Tables and Benches, and PLENTY of Yard for you all. BYO-Blankets or Chairs!
Bring the kids! Because, you know --
"Well, fancy! We desire children." —Winifred Sanderson
All children must be accompanied by an adult
No outside food or drinks are permitted.
See you on the lawn!
---
---
Comedy Night at Duchman Family Winery!
Saturday, November 19, 2022
Tickets Available October 1, 2022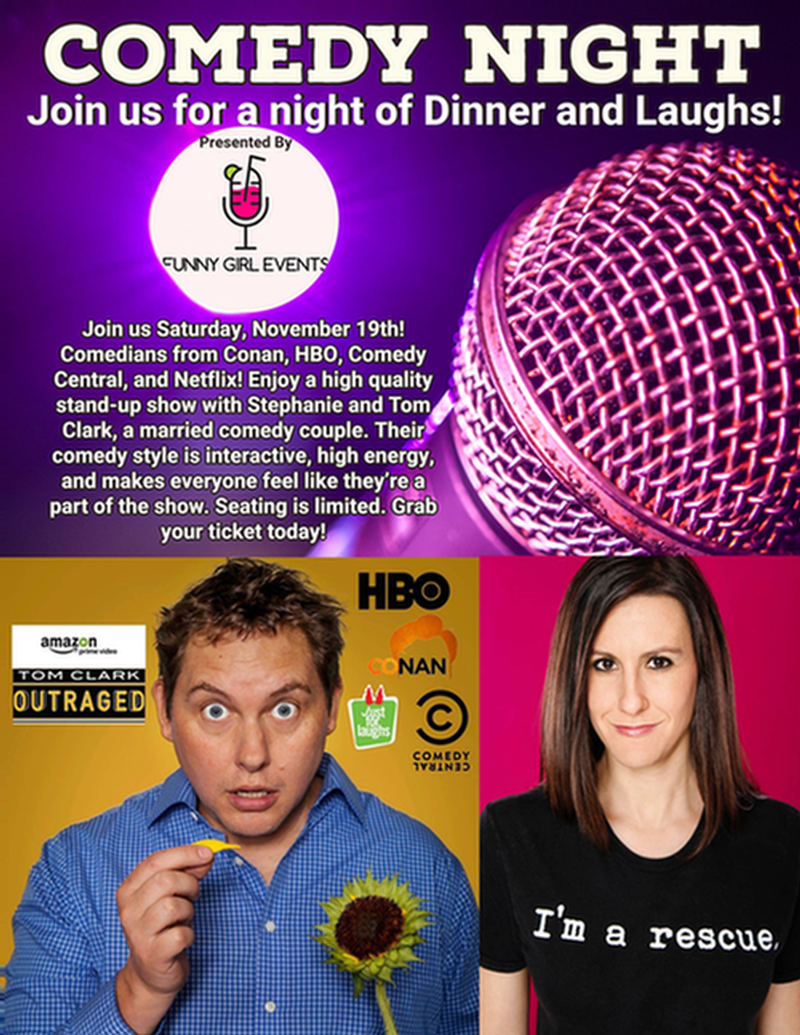 Dinner and Comedy!
Two Types of Tickets (will be OCT 1) available for this event.
Dinner & Comedy Show:
Doors open at 6:00 pm. Dinner Served 6:00 pm - 7:00 pm.
Comedy Show Only:
Doors open at 7:05 pm.
Bar Open until 9:00 PM