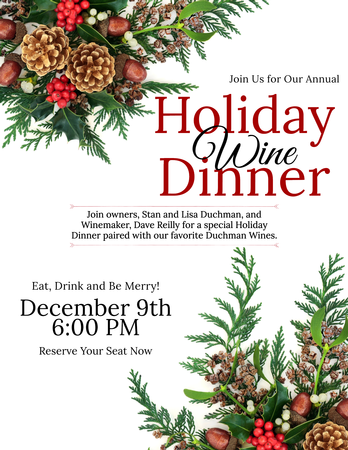 2023 Holiday Wine Dinner
Doors Open: 6:00 PM
Open Seating - Please arrive with your full party when doors open to help ensure you're able to sit with other guests with whom you're attending this dinner. Eight people max per table.
Please Arrive No Later Than 6:30 PM
Join owners, Stan and Lisa Duchman, and Winemaker, Dave Reilly for a special Holiday Dinner paired with our favorite Duchman Wines.
Course One
Heirloom Tomato and Plum Salad
basil, buffalo mozzarella, prosciutto, pine nut
Course Two
Cioppino Risotto
crab, mussels, clams, burnt orange, fennel
Course Three
Duck Scarpariello
pickled peppers, italain sausage, fresh sourdough
Course Four
Black Garlic Short Rib
espresso demi, parsnips, pickled cauliflower, roasted grape
Dessert
Goat Cheese Cheesecake
spiced apple, roasted fig jam, pistachio crumble
Select Pick Up When Checking Out. No Need to Print Ticket.